Category Archives:
Course Info
Get Ready, Prep, Go! -  University Prep programs:  An essential program for students wanting to prepare themselves for university entrance.
 Career counseling – This program helps university bound students to determine their interests, aptitudes and academic strengths and weaknesses prior to selection of a career and college.  Career options are explored and goals and direction are developed.  Also, universities are reviewed and evaluated for a good "fit."
University counseling – This program assists students in the actual selection of the right "fit" universities and in the preparation of the university application package for those university selected, including the writing of the essay and preparing for the interview.
Standardized testing prep – This program will prepare students for taking the standardized tests for university entry.    SAT, PSAT, TOEFL Experienced teachers will provide instruction, practice tests, reduce test anxiety and increase the student's self-confidence.  Academic tutoring is available, as needed.
University ENGLISH Prep – Students can improve their English speaking skills and increase their vocabulary by participating in this class. Conversational, interactive, engaging and fun, taught by native English speakers.
LEAD the way to ENGLISH – Students will be tested for their English proficiency and given English practice and instruction according to their level.  Small group instruction.  Native English speaking instructors.   Ages – 5 and up.   
 Smart Tutoring – This program is designed to assist students in improving their understanding of academic content and their academic performance (grades).  There are proven skills in which students must master in order to academically excel.  Skills such as: note taking, summarizing, determining what is important, meta cognition (thinking about their thinking), etc.  These skills will be examined and practiced in innovated ways, providing each student with rewarding insight and extraordinary skill development for academic success.
Academic Tutoring: We offer academic tutoring in: basic and advance Mathematics and Writing. (Additional courses are being added)   All grade levels. 
On Leaders and Leadership:   Do you ever wonder what it is about vibrant, captivating, strong leaders that separate them from the rest? This program is designed to examine the psychological and personality traits that high-achieving leaders seem to have in common.  Students will compare and contrast leadership attributes.  Students will evaluate leaders of their choice and analyze the attributes, significance and contributions these leaders made; discovering the qualities and challenges of leadership.  Students will also learn about integrity and ethical decision making. Participatory activities are presented to discover and develop leadership skills. 
Who me?  A Self-Awareness course: This "must take" course is for all students.  In this course students will discover their preferred learning styles. Students will learn how to utilize their learning style to improve their academics and study habits and to gain insight into themselves.  Additionally students will be purposefully moved out of their comfort zones to learn about adaptability, flexibility, failure, courage and independence.  Thorough interactive activities, role playing and videos students will develop their self-awareness and self-confidence.  Students will be stimulated to discover themselves.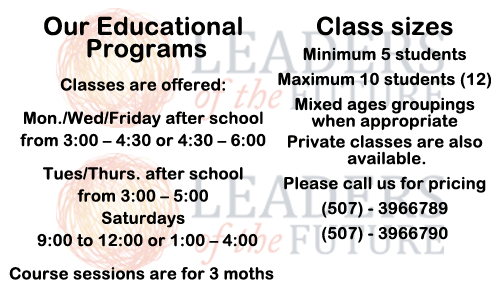 Bienvenido a WordPress. Esta es tu primera entrada. Edítala o bórrala, ¡y comienza a publicar!.